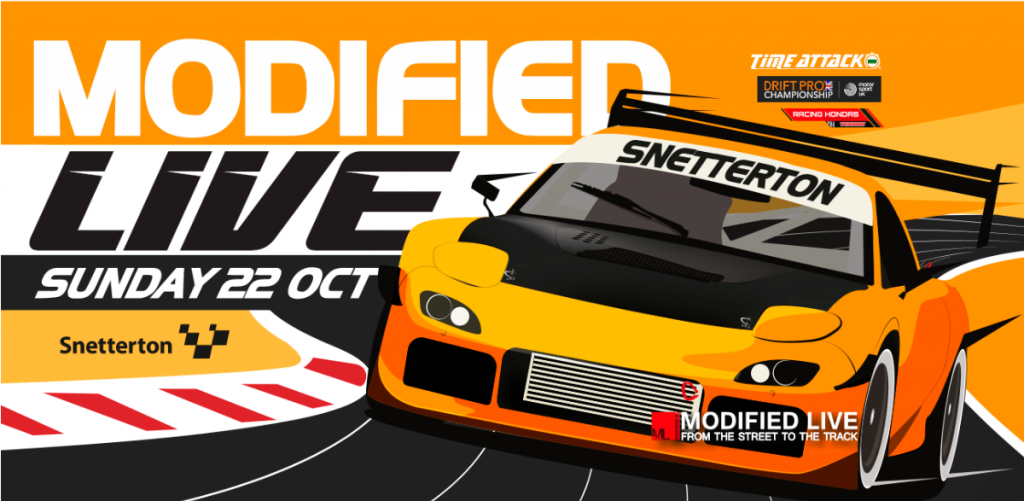 SHOW INFORMATION & VEHICLE PASSES
Modified Live – Snetterton
Sunday 22nd October 2023

Welcome to Snetterton's biggest and best modified car show!

Thank you for entering this year's Modified Live at Snetterton Circuit. With so much going on during the course of the day, we are delighted you are going to be part of what promises to be a truly spectacular event and a great way to wrap-up the car show season.

Here's what's in store:

• Time Attack Championship – Round 8
• Motorsport UK Drift Pro Championship – Round 8
• Drift Pro Lights Competition
• Racing Hondas Championship – Rounds 13 & 14
• SONAX Show & Shine competition
• Instagram Corner
• Extensive trade area
• Supercar display and track parade
• Showcase Drift Paddock
• Individual exhibits
• And of course, a fantastic line-up of car clubs!

INFORMATION
We have pleasure in providing you with all the information you'll need ahead of the show.

Please click the links below:
SITE PLAN SHOWING YOUR LOCATION
MAP OF SNETTERTON
TIMETABLE

VEHICLE PASSES
DOWNLOAD YOUR VEHICLE PASS BY CLICKING THE COLOUR/NAME OF THE ZONE YOU'RE IN BELOW.

Please check the site plan and list of clubs. Once you know which zone you're in, click one of the links below to download the pass that corresponds with your colour/location, then print it out and display in your car's windscreen on arrival.

Please note the staggered arrival times and different entrance gates in order to reduce queues and waiting times.

Please be patient and follow marshals' instructions.

CAR CLUBS
YELLOW ZONE VEHICLE PASS – ENTRY TIME: 07.00
BLUE ZONE VEHICLE PASS (FLASH CARS UK) – ENTRY TIME: 07.30
RED ZONE VEHICLE PASS – ENTRY TIME: 08.00

SONAX SHOW & SHINE
If you have registered to take part in the Show & Shine competition, please download and print this pass. Please display in your windscreen on arrival:
SHOW & SHINE VEHICLE PASS – ENTRY TIME: 07.30

INDIVIDUAL EXHIBITS
If you are not a member of a car club and you have registered individually, please download and print this pass. Please display in your windscreen on arrival.
INDIVIDUAL EXHIBIT VEHICLE PASS – ENTRY TIME: 8.30

ARRIVAL
PLEASE DISPLAY YOUR VEHICLE PASS IN THE WINDSCREEN ON ARRIVAL
If you have pre-purchased a ticket, please have it ready. If not, you will need to buy one on the gate.
Once in the venue, please followed the coloured signs to your Zone. A sign displaying your club's name will be positioned in your area and the boundaries will be marked. Event officials will help you get into position. Please make sure all cars fit within the area indicated.

TICKETS
As well as a car pass, everyone will need a ticket to get in. These can be purchased here:
https://www.snetterton.co.uk/2023/october/modified-live

Please note that discounted online advance ticket sales close at 4.00pm on Thursday 19th October.

After this time, tickets can be purchased on the day at the gate, although this delays things and can increase waiting times. Thank you again for joining us and being part of this exciting event. We hope you have a great day and we look forward to seeing you there! The Modified Live team.
The Modified Live organising team and MSV (the venue owners and operators) request that all car owners drive with due care and attention whilst on site and on the public roads.

Please resist the temptation to drive recklessly when leaving the venue, in particular if anyone is stood at the side of the road filming.

If anyone is caught driving recklessly they will face an immediate life-long ban from all MSV circuits. This is likely to include a ban for the whole club associated with the offending driver.

CCTV will also be in operation across the venue and at the exit. Any incidents of dangerous driving will be reported to the Police.
Please don't be part of the minority that spoils it for everyone else.
Thank you for your cooperation. Our – and your – event depends on it.